Chemtan supports the 2016 RiverWoods Gala fundraiser
(October 2016)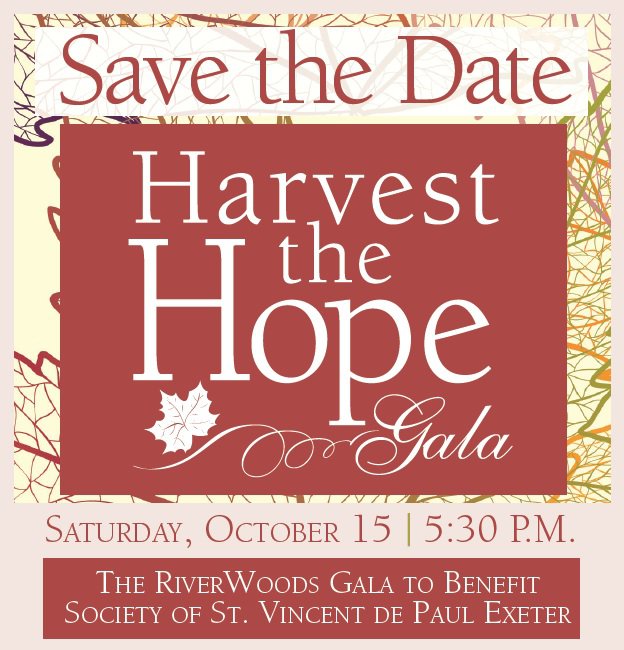 Chemtan proudly supports the 2016 RiverWoods Gala Auction titled "Harvest the Hope". This is a charity fundraiser event to support the services of the Society of St. Vincent de Paul, which include providing food and emergency financial support to families in the Seacoast region.

Last year, Society of St. Vincent de Paul distributed more than 365,000 pounds of food to families in the Exeter area. In addition, they saved 18 families from eviction, assisted 76 families with financial counseling and budget resolution, and served 42 homeless families with access to food, temporary shelter and assistance in finding permanent places to live.

The 2016 Gala will be held at RiverWoods on October 15th, 2016. Along with food and lively entertainment, the fundraiser will include a live and silent auction. Please save the date and be sure to get your tickets for Harvest the Hope: The 2016 RiverWoods Gala Auction to Benefit Society of St Vincent de Paul Exeter NH!

Tickets, sponsor and donation info at:
www.RiverWoodsRC.org/Gala
Southern District YMCA / Exeter Area YMCA
(July 2016)
Liz McConnell, Community Outreach for the Y, expresses appreciation to Don Pine, President of Chemtan Company Inc., and Dave Powell (center), VP of Operations, for the company's generous donation to the Exeter Area YMCA's Community Investors League. www.chemtan.com
The Prouty 2016
(July 2016)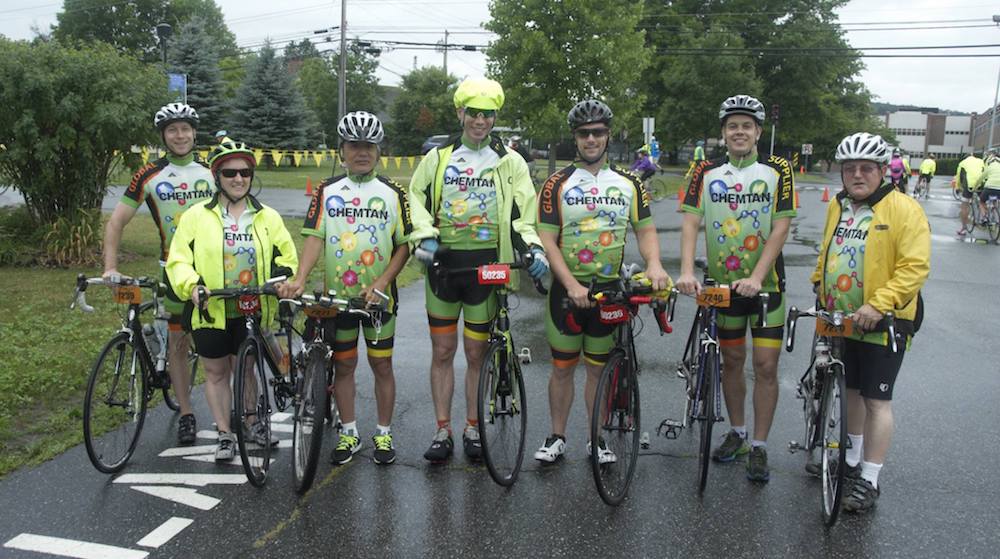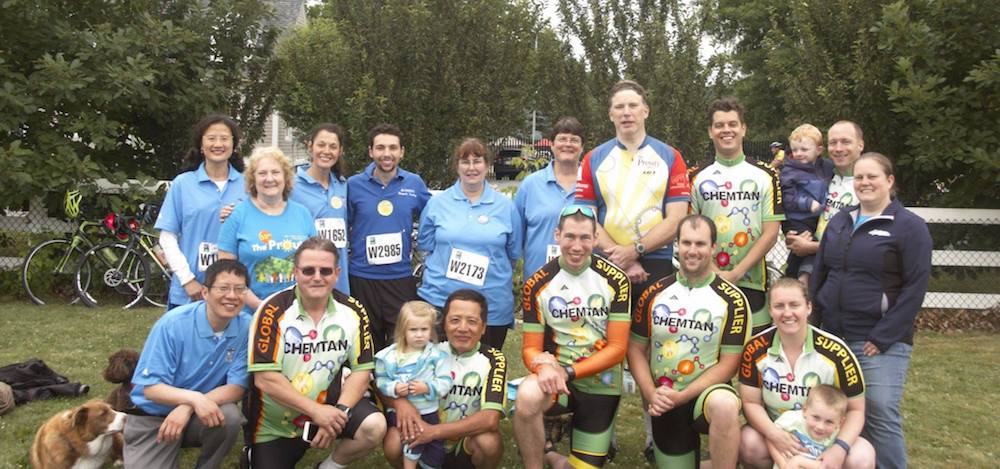 In memory of Chemtan's late President, David Ouellette who lost a three year battle against brain cancer, our Chemtan Team participated in the Prouty on July 9th 2016 in Hanover, NH, to raise fund for cancer research and patient supportive services at Dartmouth-Hitchcock Norris Cotton Cancer Center.
Our eight Chemtan bikers completed the 50 & 77 miles rides with great dedication despite of the rain.
Our Chemtan walker team consisted of 11 members, including a two-year-old girl, a four-year-old boy and two dogs. Our walkers' 10K wooded walk was cut short to 5K due to thunderstorm forcing event to close early. We are hoping to complete a longer walk next year.
The four-man Chemtan golfer team finished the 18 holes in 5th place. Congratulations to Dave, Dan, Kiel and Tyler!
We would like to extend special thanks to our family, friends and business partners for your generous donations. Thank you for your generosity and your great support of the good cause.
Our team successfully raised $8,987 for the Prouty 2016. Cheers!!!
EXETER HIGH SCHOOL SCHOLARSHIP 2015 AWARD Update
(July 2016)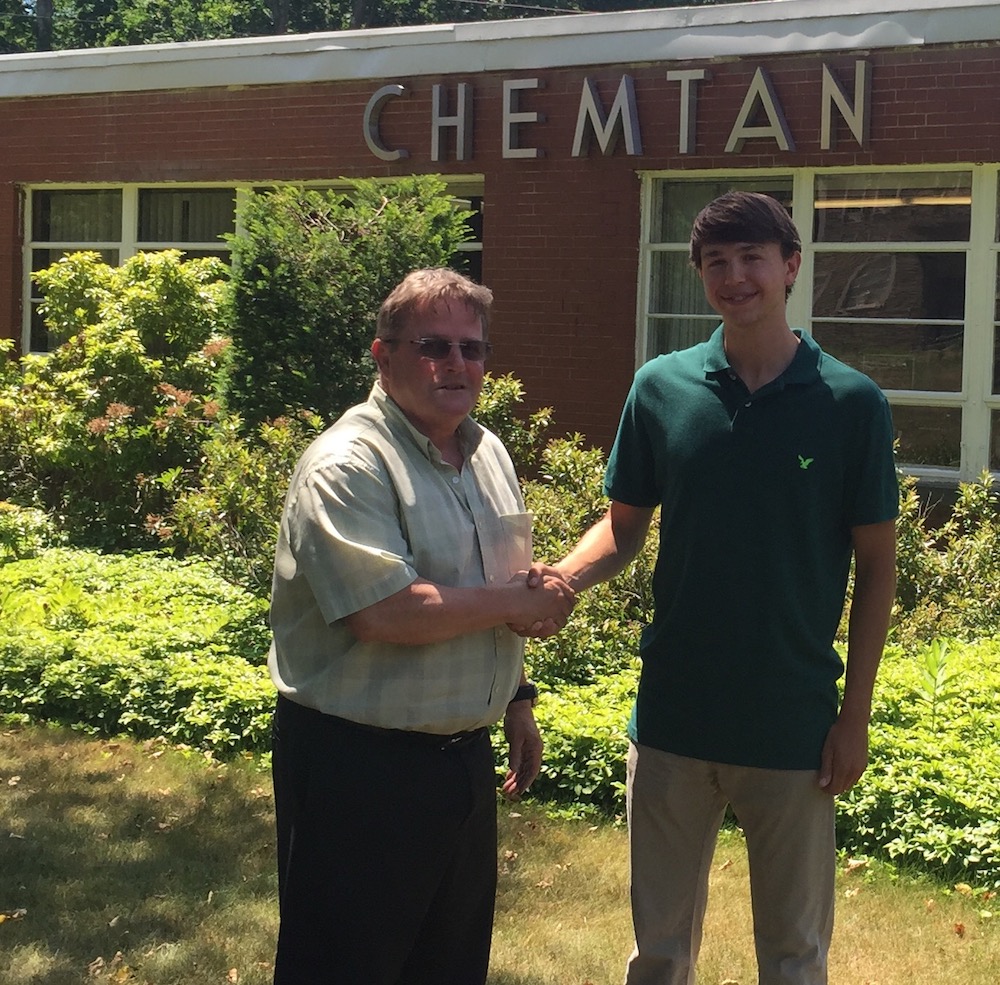 Hayden Casassa, the 2015 recipient of the Chemtan- David Ouellette memorial scholarship has completed his first year of studies in Biotechnology attending James Madison University and is very excited about his field of study and the University he selected.
We are pleased to play a part in Hayden's current success, and future endeavors.
EXETER HIGH SCHOOL SCHOLARSHIP 2016 AWARD
(July 2016)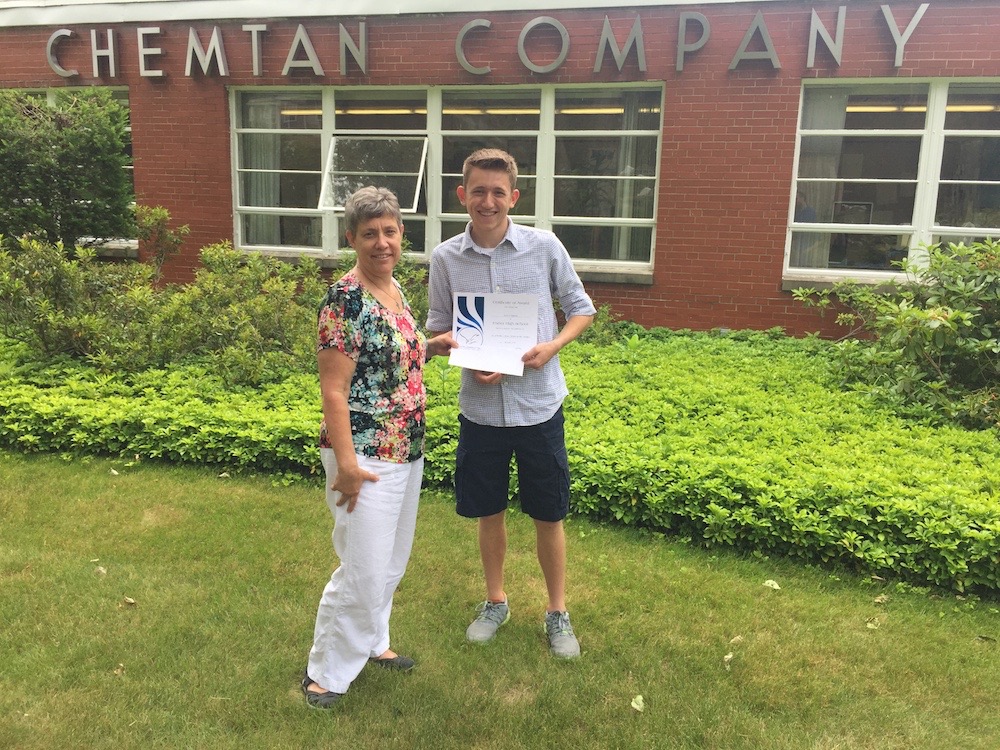 In loving memory of David Ouellette, the previous Chemtan President who lost his battle with cancer two years ago, Karen Ouellette awards this years' academic scholarship established by Chemtan, to Mr. Justin Carbone, a 2016 graduate from Exeter High school, attending Lowell Mass University this Fall to major in Plastics Engineering.
Mr. Carbone was selected from a field of candidates who exemplified the spirit behind this award excelling in academics with an interest in Chemical engineering and serving his community.
Mr. Carbone, also distinguished himself by receiving recognition as the class Valedictorian, and the "Athlete of the Year" recipient.
We wish Justin well in his future career path.
ASTM
(June 2016)
Chemtan has been members in the ASTM D31 committee for leather for the past 22 years. We are active members taking roles as committee chairmen, vice chairmen, secretaries. Chemtan lab manager, Lucas Paddock, currently participates as the Sub-Committee chair for D-31.04 Apparel.

Our late Chemtan president, Dave Ouellette, received the ASTM Merit Award in 2009.

Our Regulatory Specialist, Mike O'Keefe, received the ASTM Distinguished Service Award in 2013.

The D31 committee actively reviews and validates testing procedures that are used globally in the leather industry by chemical companies, tanneries, footwear/automotive/apparel producers, and fashion deisgners.

As participants Chemtan takes part in validating procedures by running round robin testing along wiht other experts in our industry. We analyze the data gathered and run statistical analysis to vet the data received.

The ASTM is a critical part of the leather industry. It improves communication on all fronts and gives us a standard language to use regarding the quality and consistency of the products we work with on a daily basis.

Chemtan is proud of our role in the leather industry.
University of North Hampton
(March 2016)
Chemtan has committed for the past 2 years to donate our expertise, time, and samples to run a week long lecture series and application series designed to teach the students about processing waterproof leather.

We discuss the influence of the wetblue, the water sources, the chemicals used, and the finishing challenges.

The students are expected to demonstrate knowledge by both passing a final review and by process and testing waterproof crust.

The University offers a unique opportunity to meet and engage with the future tanners of the world. Many of these students are international students and plan to join the global work force after graduation.

See news article:
http://www.northampton.ac.uk/news/leather-students-learn-a-the-value-of-waterproofing-from-the-chemtan-company/
CHEMTAN COMPANY, INC. SUPPORTS
THE NEW EXETER AREA YMCA
(September 2015)
Exeter, NH – Don Pine of Chemtan Company Inc. announced today that Chemtan Company, Inc. became members of the Founder's Circle of the Community Investors League, with their donation to The Exeter Area YMCA.

Chemtan Company, Inc.'s donation along with other companies and organizations donations will be used for the development of The Exeter Area YMCA. Located at 56 Linden Street, the new YMCA will offer a full gymnasium, indoor track, cardio/weight room and three group fitness studios, locker rooms, a teen center, on-site drop-in child care, a community room and three lounges.

Chemtan Company, Inc. is an international leader in the development, production and marketing of chemicals for the leather tanning industry. Since the company's founding in 1942, Chemtan's engineers and scientists have been continually developing state-of-the-art leather technology. Chemtan Company, Inc. is currently known world-wide as a leader in the development of waterproof leather.

For more information about Chemtan Company, Inc., visit www.chemtan.com.

To learn more about the new Exeter Area YMCA, visit www.sdymca.org.
Exeter High School Scholarship
(June 2015)
Last year, September 2014, Chemtan's past President, Mr. David Ouellette passed away after a three year battle with cancer.

To honor his memory, Chemtan established a memorial scholarship fund to be awarded annually to a qualifying senior graduating from Exeter High school embarking on further education in a related field of science.

This year, 2015 award for the Chemtan-David Ouellette Memorial scholarship went to Hayden Casassa, who will be attending James Madison University this Fall, majoring in Biotechnology.

Chemtan is proud to be a part of the Exeter community for so many years, and look forward to many more.
GRANITE STATE QUALITY COUNCIL RECOGNIZES
CHEMTAN COMPANY, INC. FOR ITS FOUNDATION OF EXCELLENCE
(April 2014)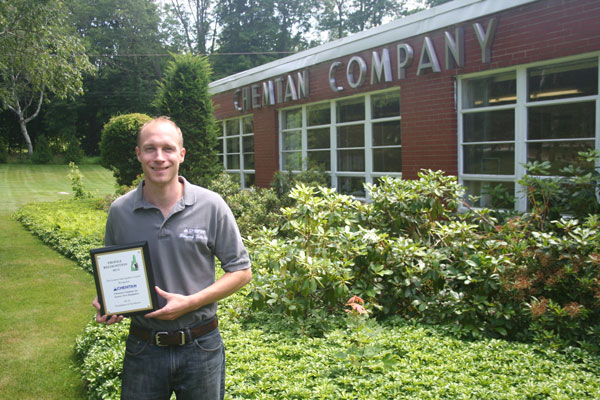 MANCHESTER, N.H. – The Granite State Quality Council (GSQC) announced today that Chemtan Company, Inc. (Chemtan) headquartered in Exeter, N.H. has earned recognition in the 2014 GSQC Awards and Recognition Program. Chemtan is a privately owned, small company that develops, produces, and markets chemicals for the leather tanning industry. The company has received this recognition in part for its aligned vision, brand, and core competencies; its strategic use of suppliers and partners; and its ability to manage in a complex international environment. These attributes work together as a solid foundation that guides and directs Chemtan, and supports workforce and customer engagement.

This recognition is at the Profile Level of the GSQC's Baldrige-based Awards and Recognition Program. The Profile level evaluates an organization's foundation of excellence – the ability to identify and address its unique operational influences and key challenges. The process for earning the Profile recognition involves the submission of an application which is evaluated by a team of volunteer examiners trained in the Baldrige Criteria. Applicants receive a confidential feedback report with strengths and opportunities to support continued improvements based on the best practices identified in the internationally recognized Baldrige Criteria for Performance Excellence.

Anne Warner, Executive Director of the Granite State Quality Council said, "We congratulate Chemtan on this achievement. Earning this recognition is a milestone which reflects why Chemtan has been a leader in the industry for over six decades and indicates the company's desire to continue to continuously improve."

The Granite State Quality Council is New Hampshire's nonprofit resource for organizational performance excellence. The GSQC helps New Hampshire organizations to become excellent through the sharing of best practices; training and coaching; and the state's Baldrige-based Awards and Recognition Program and Team Excellence Awards process.

For more information about the recognition process, how to become An Awards Examiner, or about the GSQC, visit www.gsqc.com or contact the executive director at 1-603-321-1046 or anne@gsqc.com.