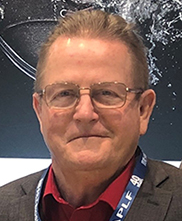 Donald T. Pine
Chemtan President
President's Message
2018

The market continues to be unsettled but is finding its place as one fact continues to hold true, that quality leather is not a commodity. Quality leather is unique, and a natural material enjoyed by many people especially with the wide array of foot wear, handbags, and accessories etc. available. Synthetics, although much improved, fall short of the completeness that Leather provides. At the heart of the issue; synthetics are petroleum- based with a significantly larger carbon footprint forming products which are non-biodegradable and end up in landfills and oceans at alarming rates. No matter what sensible metrics are used to evaluate leather, leather cannot be comparable to synthetic alternatives being marketed.

Chemtan continues to focus on providing world class technical service, and some of the best chemicals in the market to make specification leathers particularly waterproof leathers while remaining compliant with world-wide environmental regulations.

We have doubled our warehouse storage floor space this year for Finished Goods and have added some new people to our technical sales staff. We will continue to look for talented, impassioned, hardworking employees to continue our company growth in parallel with further securing our future business with the most successful and environmentally conscious leather producers in the world.

We are proud to be a part of the leather industry and look forward to the future with its many possibilities.

Respectfully,
Donald Pine
Chemtan President
Company News
Product Highlight
New tool to make chrome free leathers - CHEMTAN® M-5
Efficient iron stain remover - CHEMTAN® R-20
Versatile retanning polymer - CHEMTAN® R-108
Finish oil that does not compromise waterproof - CHEMOL® 588
Safe, effective alternative to formic acid - CHEMTAN® ECO-FIX
New tool to make chrome free leathers - CHEMTAN® M-5
Let's make white leather together.

Chemtan® M-5 is a novel approach to making chrome free leathers. It is non-yellowing, making it supremely suited for white athletic and automotive leathers. But it also imparts numerous reactive sites needed to make bright and dark shades.

Chemtan® M-5 is a newly engineered chrome free tanning agent designed to replace aldehyde and aluminum tans.

Leathers tanned using the Chemtan® M-5 have significantly improved shrink temperatures compared to alternative chrome free options. Typically achieving 75°C.