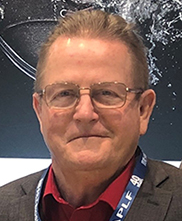 Donald T. Pine
Chemtan President
President's Message
July 2023

The 4th quarter 2022 slow down world- wide has extended into the 1st quarter of 2023 and likely will persist until mid- year. Chemtan is well positioned to maintain our high standards throughout this slow- down.

Raw material supply lines appear to be improving ever so slightly but against the backdrop of a worldwide economic downturn. This improvement is welcome news as it allows us to be more responsive to changes in the market. The Leather Industry correspondingly is driven by retail activity heavily impacted by world economies in the USA, China, and Europe followed by consumer demand.

Now with Covid-19 behind us we have been able to fill staff positions in Chemtan manufacturing, warehouse and office. We are in a great position for the anticipated rebounding of the world-wide economic recovery.

We are pleased to announce the most important Chemtan products are registered on the ZDHC portal of LWG attaining the highest rating of 3 by independent third -party testing via Eurofin/BLC. Certified Chemtan products rated as level 3 and additional products are on the same pathway suitable for customers producing leathers which are compliant with International Standards.

Port congestion, container availability, shipping costs and delays during the Cov-19 Pandemic crisis has caused us to make changes in the way we operate. The result is we have improved our customer service and streamlined our operations.

Our recent efforts have culminated in strategic positioning of high-demand specialty chemicals on platforms servicing multiple customers located in multiple countries. The steps we have taken will dramatically reduce transportation lead times for the convenience of existing and new customers.

Chemtan's annual Show line of 2023 introduces the GREENTAN® registered product range which is being used for Beam & Tan advancements. Noteworthy is a 50 % reduction in sodium chloride, and sodium sulfite through the use of enzymes, and with 75% lower ammonia through alternative deliming. The main tannage can now be heavy metal free.

In the retan phase following our GREENTAN® approach in Beam & Tan we have developed waterproof /water resistant leathers, both light and medium weights for Linings, Gloves, Children's shoes, and Shoe upper.

Chemtan's 2023 Show line also introduces the concept of lower temperatures being used in the retan drum producing leathers in a range of waterproof categories.

We embrace the new challenges and opportunities to be faced in 2023 with a renewed sense of enthusiasm.

Respectfully,
Donald Pine
Company News
Product Highlight
New tool to make chrome free leathers - GreenTan® M-5
Efficient iron stain remover - CHEMTAN® R-20
Versatile retanning polymer - CHEMTAN® R-108
Finish oil that does not compromise waterproof - CHEMOL® 588
Safe, effective alternative to formic acid - CHEMTAN® ECO-FIX
Versatile dispersing agent - CHEMOL® 411
GREENTAN® N-90 reduces nitrogen level up to 80%
GREENTAN® T-22M - a clean synthetic retanning agent to meet your retan needs
GREENTAN® N-90 reduces nitrogen level up to 80%
Let us help you achieve your ZDHC Chem-MAP certification and meet your own corporate sustainability goals.

This one simple change can help you improve your wastewater profile by reducing nitrogen.

GREENTAN® N-90 is a unique deliming agent for reducing Nitrogen level up to 80% in the float and wastewater effluent.

High concentration of ammonium sulfate in the tannery wastewater has received much attention due to the increasingly strict emission regulations. Chemtan® N-90 will help you overcome this problem and reduce the cost of treatment of the wastewater system. You will get cleaner leather and a more uniform tannage.