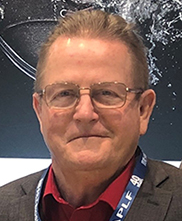 Donald T. Pine
Chemtan President
President's Message
February 2023

The 4th quarter 2022 slow down world-wide has extended into the 1st quarter of 2023 and likely will persist until mid-year.

Raw material supply lines appear to be improving ever so slightly but against the back-drop of a world-wide economic downturn. The Leather Industry correspondingly is driven by retail activity heavily impacted by world economies in the USA, China, and Europe followed by consumer demand.

Staff positions in Chemtan manufacturing, warehouse and office have been filled recently after much difficulty during the past few years. We are much better positioned now for the anticipated rebounding of the world-wide economic recovery.

We are pleased to announce the most important Chemtan products are registered on the ZDHC portal of LWG attaining the highest rating of 3 by independent third-party testing via Eurofin/BLC. Certified Chemtan products rated as level 3 and additional products are on the same pathway suitable for customers producing leathers which are compliant with International Standards.

Port congestion, container availability, shipping costs and delays during the Covid-19 Pandemic crisis has forced us to make changes to improve customer service.

Our recent efforts have culminated in strategic positioning of high-demand specialty chemicals on platforms servicing multiple customers located in multiple countries. The steps we have taken will dramatically reduce transportation lead times for the convenience of existing and new customers.

Chemtan's annual Showline of 2023 introduces the GREENTAN® registered product range which is being used for Beam & Tan advancements. Noteworthy is a 50% reduction in sodium chloride, and sodium sulfite through the use of enzymes, and with 75% lower ammonia though alternative deliming. The main tannage can now be heavy metal free.

In the retan phase following our GREENTAN® approach in Beam & Tan we have developed waterproof /water resistant leathers, both light and medium weights for Linings, Gloves, Children's shoes, and Shoe upper.

Chemtan's 2023 Show line also introduces the concept of lower temperatures being used in the retan drum producing leathers in a range of waterproof categories.

We embrace the new challenges and opportunities to be faced in 2023 with a renewed sense of enthusiasm.

Respectfully,
Donald Pine
Company News
Product Highlight
New tool to make chrome free leathers - CHEMTAN® M-5
Efficient iron stain remover - CHEMTAN® R-20
Versatile retanning polymer - CHEMTAN® R-108
Finish oil that does not compromise waterproof - CHEMOL® 588
Safe, effective alternative to formic acid - CHEMTAN® ECO-FIX
Versatile dispersing agent - CHEMOL® 411
Versatile dispersing agent - CHEMOL® 411
Relax we got this. Let Chemol® 411 do all the heavy lifting in your process. Very few dispersants have the versatility of Chemol® 411. Whether you are making soft milled nappa, waterproof natural milled floater, or firm upper Chemol® 411 will certainly find a place in your retan.

Chemol® 411 is a versatile dispersing agent which can be used to produce a wide range of leathers, originally engineered specifically to meet the needs in waterproof systems it has shown itself as cost effect product for non-waterproof production.

Chemol® 411 is fully neutralized and has anionic charge. It is chrome stable. It can be used to help improve the wetback of overly dry wet blue. As a dispersant it is equally effective aiding in distribution of the retan material or with the fatliquor. It really shines when used with those sensitive waterproof resins and silicones improving distribution and overall physical performance.

The dispersing properties of the Chemol® 411 are rendered inert by the metal salts commonly used in waterproof retans. Making this the perfect tool in your chemical toolbox.